Hello!  The weather is finally starting to perk up a little!  There is a bit of sunshine trying to peek through the clouds, and the temps are supposed to be nearing 70 today.  I guess that means it is a perfect time to get out an explore!  Unless you are my sick dog… in which case, you need to STAY HOME!
Let me back up.  I was out of town this weekend visiting family.  My husband was home with Abbey.
Sunday, mid-day, I got a text from a co-worker saying, "Is this Abbey?".
Ya'll… I'm gonna tell you.  My heart never sank faster in my whole damn life.
A series of events happened that went unnoticed, my husband left to go golfing (for the first time in 4+ years), and Abbey took the hell off.  (We think maybe she was following him?)
She was picked up by a very amazing family, who said that they saw her running down a crazy busy 4 lane road a mile or so from our house, stopped the car, opened the door, and she jumped right in.  Which is interesting, since that is basically the story of how WE got her when she was 3-4 months old.
Anyhoosies.  My eagle-eyed coworker spotted her on the Lost/Found Pet FB page and contacted me.
My husband's golf game was cut short, and we have her back.  It could have been so, so much worse.  I love that dog more than almost anything in the world.  I'm still a mess thinking of all the ways this could have ended differently.
She is microchipped, but we haven't put a collar on her since having Harlow, because the collar's jangles would always wake Harlow up.  Today I ordered one of these: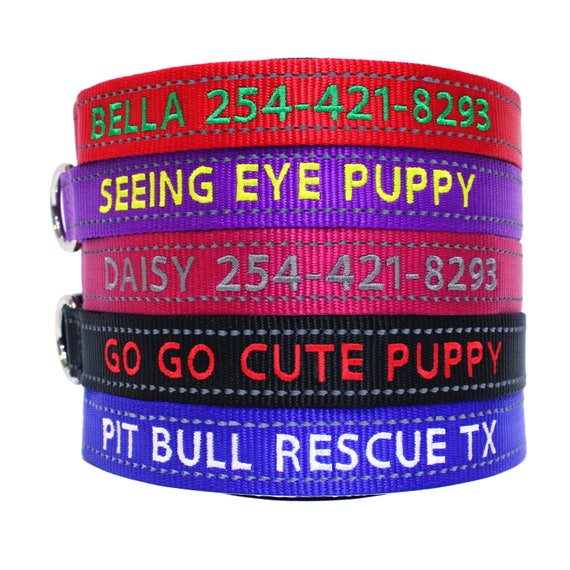 I had been looking at them for a long time, but never went through with the purchase, which in hindsight, is such a dumb move.
I'm just so incredibly grateful that the outcome was a good one.  Go hug your pups for me, and make sure they are secure!